---
Latest
For dance practice, lessons, parties, workshops, and many more studio rental options, make your booking here! Contact 3162-0037 for more details.
Follow us on Facebook for 2017's latest events, upcoming classes, and best dancewear offers! Remember to LIKE our page!
ATTENTION!

Hi, dear tango lovers, your favourite tango party at DanzStage Hong Kongcarries on this coming Saturday! Why? Because spring is nature's way of saying, "let's par-tay!" Put on your long-waited spring outfit and tango into the warm spring night! 

We are happy to have Huy as our DJ.

Light refreshment will be provided for free.

Theme: Spring Time!
Dress code: colorful, spring vibe
Time: 9:30pm - 2am, March 11, 2017
Price: HK$120
Location: DanzStage, 2001-2002 20/f, 148 Electric Road, Tin Hau, Hong Kong.
****Above info posted on March 5, 2017****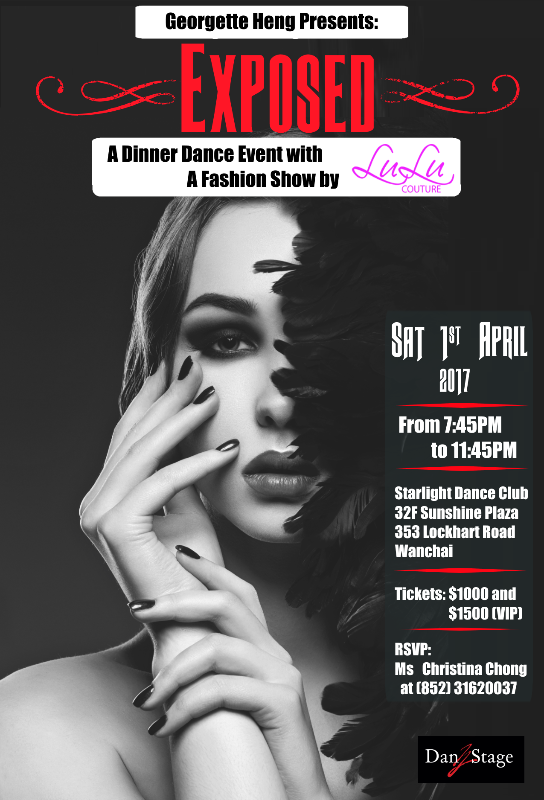 DanzStage Hong Kong presents the 3rd Fashion Show Dinner Dance Party on the 1st of April 2017 at Starlight Dance Club Hong Kong, Wanchai.
We would be delighted to have you with us on this very special evening of dancing and viewing Lu Lu's latest collection of Ballroom dresses.
Tickets: HK$1000, VIP $1500
RSVP: Christina Chong, 852-31620037.
****Above info posted on Feb. 19, 2017****
DanzStage is one of Hong Kong dancers' favourite dance studios, specializing in the art of partner dancing. Whether you are looking to learn the classy ballroom, flirtatious latin, sultry salsa, crazy swing or the passionate Argentine tango, we've got some of the best instructors around town whose guidance can change your life.
****Above info posted on Feb. 8, 2017****